Your Complete Roof Buying Guide
Your home is one of the most significant investments you'll ever make, and you'll have to maintain it over time with
repairs, renovations and upgrades. The roof is one of your home's most crucial aspects. It's also one of the areas
requiring the most attention — there are only so many roof repairs you can make before you need a new one.
Most homeowners will only need to replace a roof replacement a few times in their life. Because it's such an
infrequent occurrence, you may not know all the details about buying a new roof. That's why we've put together this
residential roof buying guide. It can answer your questions and help you make an informed decision.
What to Consider When Choosing a New Roof
You'll have many different factors to consider when choosing a new roof. This roofing buying guide will walk you
through some of them.
Climate
Your home's roof protects it from the outside elements, so choosing a suitable material for your climate is vital. For
example, if you live in an area with frequent, heavy snowfall, you need a material that can withstand it.
Contractors
It's vital to find an excellent roofing contractor for your project. Since the roof installation cost will be a part of your budget, you must choose a roofing
contractor beforehand. Consider the following factors when looking for a roofing company:
Experience: The contractor you hire should have the knowledge, experience and skills to
install a high-quality roof.
Warranties: You want a contracting company that offers guarantees on their products. A
warranty shows they trust their products and gives you peace of mind if anything happens.
Excellent products: Your new roof needs to last, perform well and look good, so look for a
roofing contractor that uses high-quality products.
Post-cleanup: Roof installations generate a lot of debris and waste and you'll need special
equipment to dispose of some of these materials. Save yourself time and trouble by finding a roofing company that handles post-cleanup
so you don't have to.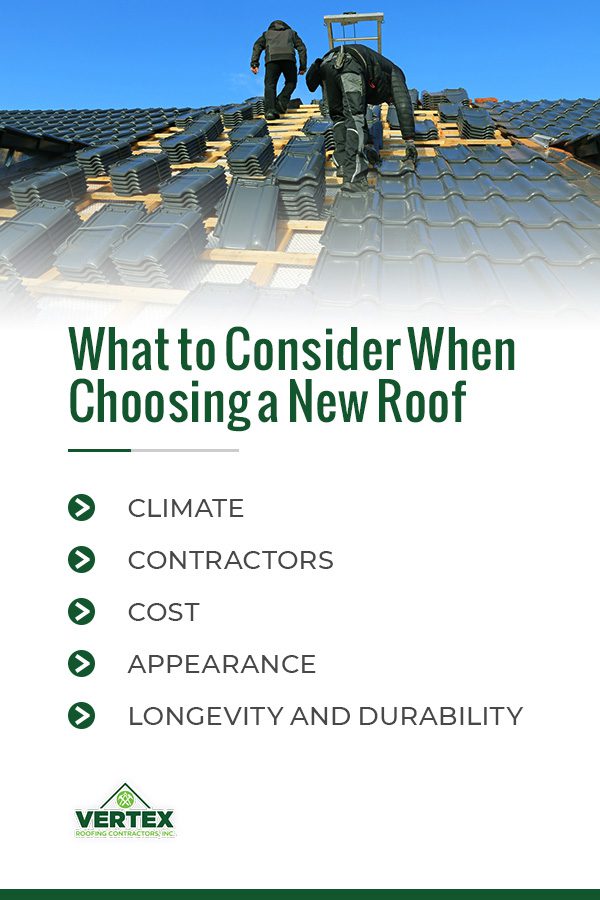 Cost
While the roofing contractors will provide you with a cost estimate, it's crucial to know your budget beforehand. Once
you tell them your price range, they can offer suggestions to help you stay within your budget.
Appearance
Your roof is visible from the street and affects your home's curb appeal. Its color, texture and material need to
match your home's exterior style and finish.
Longevity and Durability
You want a durable roof that will protect your home for as long as possible. Inexpensive roofing materials may reduce
your short-term costs, but they tend to be less durable. Over time, a more expensive but higher-quality roofing
material will pay for itself.
Which Roof Type Is Best?
With many roofing materials available, you'll need to know what roof lasts the longest and what roof is most durable. Here are some of the pros and cons of
each to help you decide which is best for you.
Asphalt Shingles
Asphalt shingles are a common roofing material because they are affordable and easy to install. They work with almost
any architectural style and manufacturers can reinforce them with organic materials or fiberglass. The pros of asphalt
shingles are that they:
Come in various colors.
Are one of the least expensive materials.
Are fire-resistant.
Last 15-50 years.
The cons of asphalt shingles are that:
Their quality varies.
They're not the most durable roofing material.
Metal
As the most durable roof type, metal roofs are resistant to extreme weather conditions. This type of roof can be zinc,
copper, aluminum or stainless steel and suits cottage-style and contemporary homes, bungalows and cabins. The pros of
metal roofing are that it:
Lasts 50 to over 100 years, depending on the type of metal.
Is resistant to fire, insects, mildew and rot.
The cons of metal roofs are that they:
Are expensive.
Can dent.
Are loud during heavy rainfall or hail.
Wood Shingles and Shakes
A popular choice for many centuries, wood roofs — whether cedar, redwood or pine — make your home look more luxurious.
Their rustic aesthetic matches bungalows, Cape Cod, cottage, Tudor-Style and Craftsman homes. Some pros of wood
shingles and shakes are that they're:
A natural product.
Easy to install.
Lightweight.
The cons of wood shingles and shakes are that they:
Need a fire-resistant coating in fire-prone areas.
Can mold, split or rot in wet climates.
Are more expensive than many other types of roofing.
Require regular cleaning and protective treatments.
Last 20-25 years.
Slate
Slate is available in various shades and offers a beautiful, elegant appearance. It suits Colonial, French chateau and
European homes. The pros of slate roofs are that they:
Are fire-, insect-, mildew- and rot-resistant.
Are recyclable.
Last 60-125 years.
The cons of slate are that it:
Is expensive.
Is heavy.
Requires additional framing.
Should You Repair or Replace Your Roof?
When you should consider a new roof over repairs will depend on the following:
The extent of the damage: Structural damage can be a cause for a roof replacement. A
contractor can tell you whether repairs or a replacement would be best.
The age of your roof: While roofs last for many years, they don't last forever. The older your
roof is, the more likely it is to be past the point of simple repairs.
The location: Where you live plays a significant role in the type of roof you need. If you
live in a region susceptible to extreme weather, you may need to replace your roof with a sturdier roofing
material.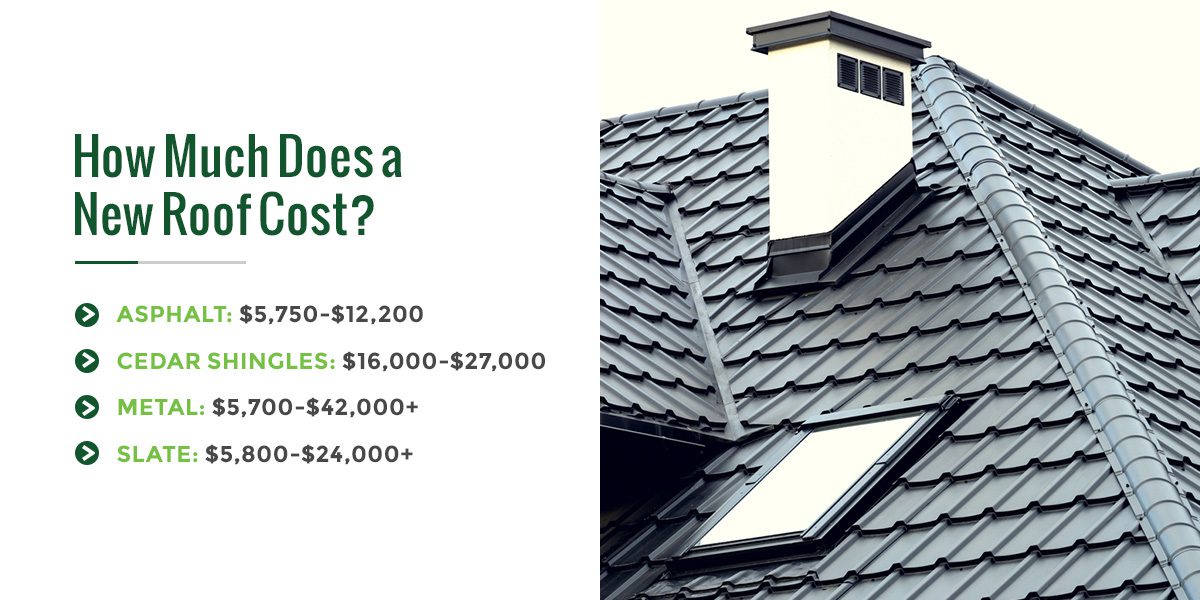 How Much Does a New Roof Cost?
The cost of a new roof will depend on a combination of factors, including:
Your choice of material.
Labor costs.
Your home's location.
The size of your roof.
Additional features like layers, chimneys and skylights.
Here is the average roof replacement cost range for common materials:
Asphalt: $5,750-$12,200
Cedar shingles: $16,000-$27,000
Metal: $5,700-$42,000+
Slate: $5,800-$24,000+
Financing Options
The cost of a new roof can vary but will typically cost several thousands of dollars. Thankfully, you have several
financing options available to help with the cost:
Contractor financing: Some contractors offer special financing options to help you pay for your roof replacement.
Insurance: If you need a new roof because of storm or fire damage, your insurance might cover
most or all of the cost.
Credit cards: You might consider taking a zero-interest credit card if you believe you can pay
it off during the introductory period.
Home equity loan: You can use your home's equity to receive a loan for various expenses,
including roof replacements.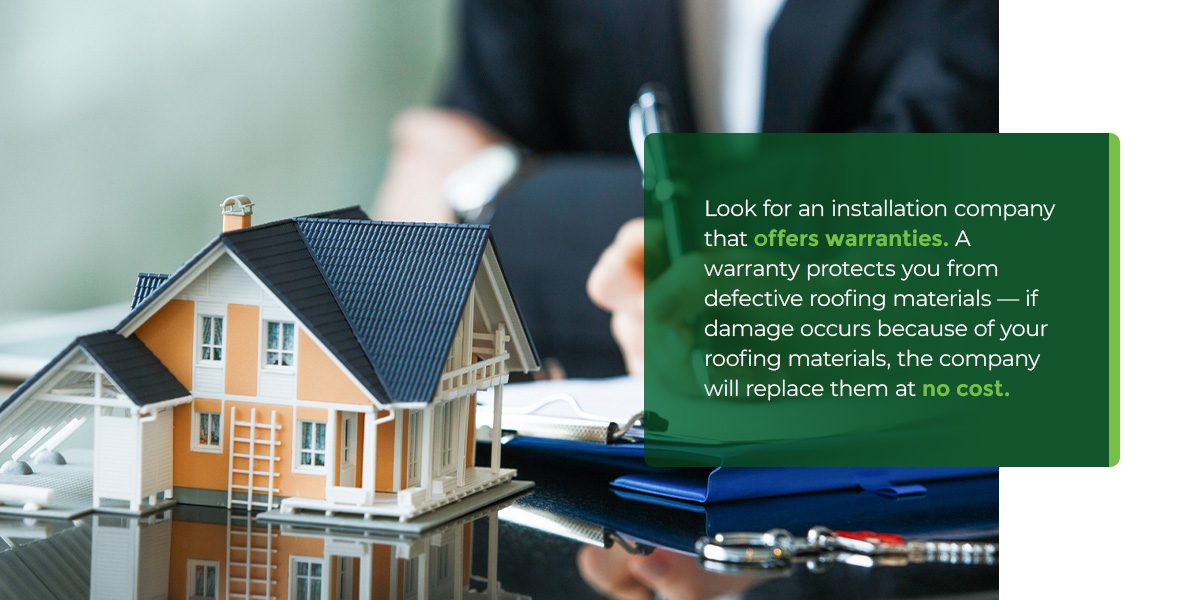 Roofing Warranties
Your roof is a significant investment, so look for an installation company that offers warranties. A warranty protects
you from defective roofing materials — if damage occurs because of your roofing materials, the company will replace
them at no cost. Roofing warranties include: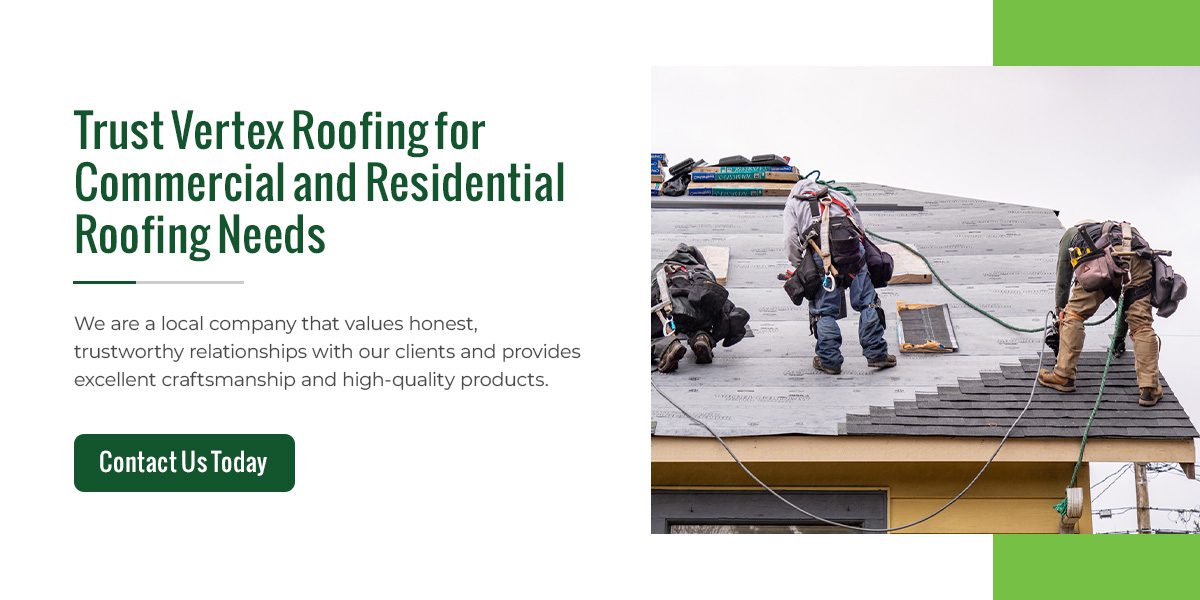 Trust Vertex Roofing for Commercial and Residential Roofing Needs
With over 10 years of experience, Vertex Roofing Contractors Inc. is Northern Virginia's top choice for commercial and
residential roofing services. We are a local company that values honest, trustworthy relationships with our clients
and provides excellent craftsmanship and high-quality products. You can trust us to do your roof replacement the right
way.
Contact us today to schedule a free on-site inspection and discuss your options.
View Our Helpful Roof Replacement Resources
Roof Installation
New Roofs & Insurance