Commercial Roofing Service in Northern VA
In addition to our residential roofing work, Vertex Roofing Contractors Inc. has served many commercial businesses. We are a commercial roofing company in Northern Virginia that installs commercial roofing systems for new construction as well as roof replacements on existing properties, such as shopping centers and apartment complexes. We are the experts for all the latest in low-slope roofing technology, and flat roofing makes up a majority of commercial roofing projects.

Get Free Quote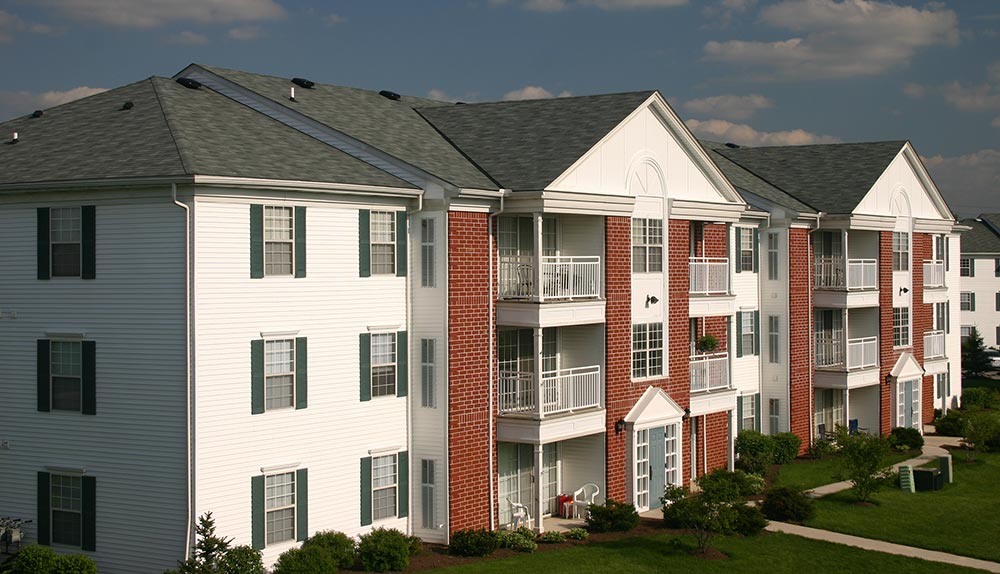 What Fits Your Business's Roofing Needs?
Explore these roofing types and contact us for more information about your particular commercial project.
Our Expertise in Commercial Roofing Projects
At Vertex Roofing, we emphasize the three Rs for commercial roofing projects:
Repair
Restoration
Replacement
As leading commercial roofers for Northern Virginia, our team understands each type of damage or issue requires unique care and attention. If your commercial roof has a minor problem, our team will repair it. For something more major, our team can help save time and money by restoring your roof. Or, if you need or want a completely new roof, we can replace your old one quickly.
We have experience performing roof replacements and adding roofs to new constructions for several types of commercial properties, including:
Shopping centers
Office buildings
Apartment complexes
Stores
Health care buildings
Hospitality industries
Restaurants
Vertex Roofing is here to help many types of businesses get the roofing installation, maintenance and repairs they need for their commercial projects.
Our Commercial Roofing Services for Virginia
We offer several services for roofs on commercial buildings. Our options include:
Roof repair: If your roof has worn out areas that have been affected by tree damage or weather, our team is ready to help. We can also fix other minor roof repairs, including leaks, to help extend your roof's life span.
Roof restoration: Our team can also conduct roof restoration, where we clean and restore your existing roof to make it like new without the time or cost of getting a replacement.
Roof replacement: We also use best practices for commercial roof replacement with a new upgrade of your choosing, whether you want synthetic rubber or a type of metal.
Our team can also provide routine inspections and maintenance to ensure your roof lasts as long as possible. No matter what type of commercial roofing you have or want, you can trust Vertex Roofing to get you the services you need.
Types of Commercial Roofing We Offer
We can install or service several types of commercial roofing, ranging from metal to synthetic rubber. Our experts are prepared to either install or maintain commercial roofs like:
EPDM (Synthetic Rubber)
EPDM is the most common roofing product for low-slope roofs. Its benefits include no pollution of rainwater run-off, durability, design versatility and ease of installation. We can cover your EPDM roof in no time, with minimal disruption to your business operations.
TPO (Thermoplastic Polyolefin)
This product is a single-ply roofing system. It is widely used in roofing because it does not degrade under UV radiation, a common problem with nylons. This product also comes in a variety of colors which can keep a building cooler while matching its business aesthetic.
Modified Bitumen (Torchdown)
This product uses torches that melts asphalt at the seams to join pieces together. During extreme weather conditions, torchdown roofing can shift as required and resist brittleness. This system also provides excellent waterproofing and insulation qualities, and is a fire-, wind- and hail-rated roofing system. This product may also be cold-applied using adhesives, gravel and rock.
Standing Seam Metal
Metal roofs can be mechanically seamed or have snap-together seams, tongue-and-groove seams or hooked seams. Standing seam metal roofing panels can be custom-fabricated in the shop or roll-formed on-site. Metal roofs are durable, fire-retardant and almost maintenance-free. They are also energy-efficient since metal reflects heat.
About Our Northern Virginia Commercial Roofers
Vertex Roofing is a commercial and residential roofing repair and installation company. Our team can also provide other services, including siding and gutters. Our goal is to service property managers and homeowners throughout Northern Virginia and anyone within a 35-mile radius of Manassas.
We help you improve your business property with a new roof you can appreciate for years to come. Our commercial roofing professionals use the highest-quality products and pay strict attention to detail while working. Vertex Roofing provides reliable roofing services to help you upgrade your business or address any other roof concerns.
Our team has served residential and commercial properties for over 10 years, providing us with the necessary expertise to get you reliable roofing installation, repair and replacement services for your business. We also have multiple awards and recognitions, including:
GAF President's Club Award Winner
CertainTeed SELECT ShingleMaster™
GAF Master Elite® Roofing Contractor
These allow us to provide some of the best warranties in the industry. Vertex Roofing is devoted to being open and honest with you. We ensure you understand the services you need and the budget and time frame to get the work done.
View Our Helpful Commercial Roofing Resources