Fiber Cement and Vinyl Siding Installation Companies in Northern Virginia
Siding has become a very popular and exceptionally versatile choice for protecting and showing off the beauty of a home. Vinyl and fiber cement siding are top choices for new home construction, and that trend is only gaining traction over time. Luckily, Vertex Roofing Contractors Inc. specializes in siding installation for Northern Virginia residents and businesses.

Get Free Quote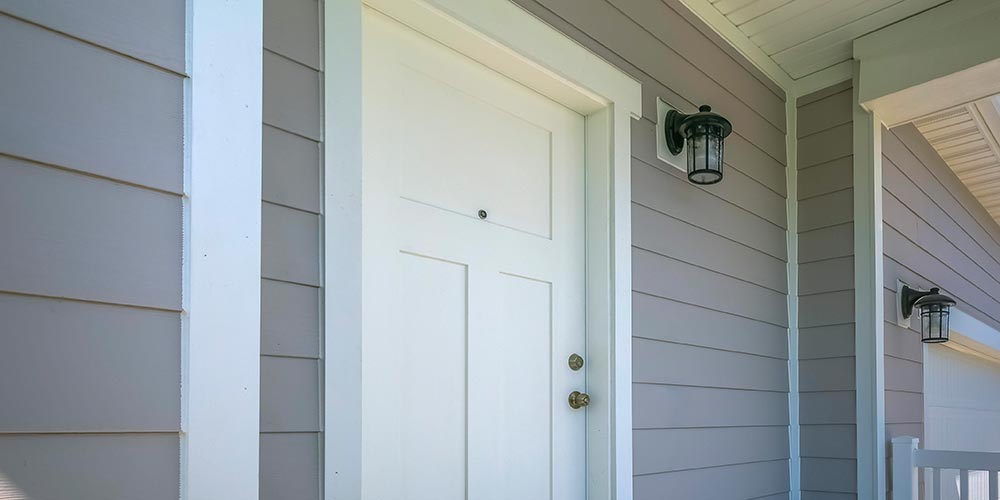 Property owners choose to invest in new siding for a variety of reasons, from the aesthetics and beauty it provides to lower utility bills due to better insulation. Here are a few of the main reasons that our clients choose new siding installation for their properties.
Residential Siding Replacement and Repair Services
Vertex Roofing offers siding replacement and repair services for Virginia homeowners. We can replace your current siding with one that better fits your style. Our team can also use best practices to perform repair work on your existing siding.
We perform siding inspections and look for issues like peeling paint, rot, holes, impact damage, incorrect nailing and more. If you notice any of these concerns, we will evaluate the area and decide on necessary repair services.
Types of Siding We Offer
At Vertex Roofing, we provide several siding types for residential houses, including:
Vinyl: This siding is made with polyvinyl chloride (PVC), a plastic that expands and contracts as the temperature changes. Vinyl offers numerous styles and color options, with many that even mimic the look of real wood. It is water-resistant and flexible, helping prevent cracks or chips.
Fiber cement: This moisture- and rot-resistant siding helps prevent molding and cracking. Its durability allows the siding to last for years with regular maintenance. Fiber cement is made from Portland cement and wood pulp that are formed as shingles or boards in various styles, like half-round or square.
James Hardie: We offer leading James Hardie siding that can withstand harsh weather. James Hardie products are durable enough to withstand everything from snowstorms and UV rays to different seasons. These fiber cement options also resist fire and deter animals and other pests.
How to Choose The Right Siding for Your Home
Vinyl and fiber cement siding are two of the most popular and convenient options for homes in the United States. Choosing between them is simple if you weigh the advantages of each. The choice ultimately depends on your preferred features and styles.
Pick vinyl siding if you want:
Easy installation
Little maintenance
Mold, rot and insect resistance
Design versatility
You could also choose fiber cement siding if you're looking for:
Long-lasting siding
Increased durability
If you're still unsure which siding option is right for you, we can help you make the right decision for your home, as well as provide replacement and siding installation services throughout Northern Virginia.
Benefits of New Siding
New siding offers numerous benefits for homeowners in northern Virginia. Advantages of replacing the existing siding on your home include:
Durability: Vinyl and fiber cement siding are made to withstand the elements, such as wind and impact from hail, and resist excessive moisture, meaning they won't rot or corrode over time.
Minimal maintenance: Compared to other materials, vinyl and fiber cement siding are essentially maintenance-free and can retain their original quality for years to come, with minimal maintenance.
Save money on heating & cooling: New siding can prevent heat and cooling loss, and you will notice heating and cooling costs are lower.
Versatility: New siding comes in hundreds of different colors and textures, giving you the options you want to style your home exactly as you wish.
Improved appearance: Your new siding will allow you to update your home's entire look. Whether your style has changed since you first moved in or you're thinking about how you want others to see your home, new siding is a great option.
From curb appeal to lower utility bills, new siding is a great choice with numerous advantages and many different options to choose from to suit any home or business.
About Vertex Roofing Vinyl and Fiber Cement Siding Contractors
We will help you improve your property with new roofing and siding materials using high-quality products and attention to detail. We also have several industry certifications, including:
GAF Master Elite® Roofing Contractor
GAF President's Club Award Winner
CertainTeed Select ShingleMaster™
Vertex Roofing has over 20 years of experience in the roofing industry, giving us the expertise to provide top-notch services for roofs, siding and gutters. Contact us to work with Northern Virginia's leading vinyl and fiber cement siding installation company.
View Our Helpful Resources on Siding
Siding Maintenance
Siding FAQs