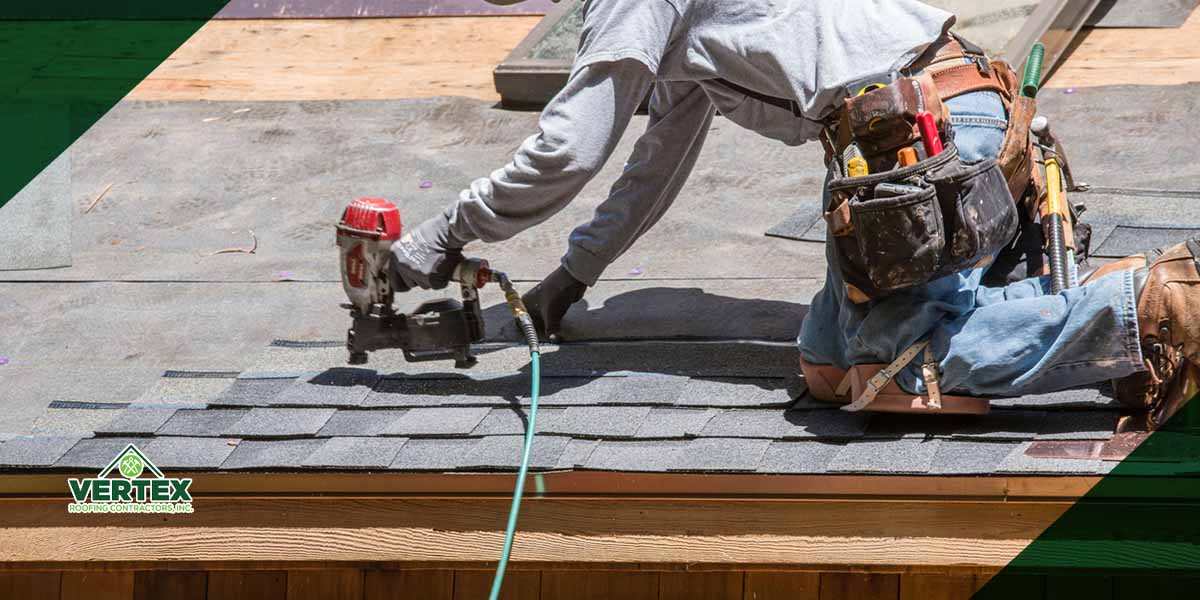 Most homeowners know the importance of maintaining their roofs, which often involves routine inspections and minor repairs throughout the years. But maintaining your roof can involve significant repairs, whether because of storm damage, age or another factor. Significant damage often requires a form of roof replacement.
Roof replacements can be expensive, but you have another option: a re-roof. You may wonder if re-roofing is the same as a roof replacement. While the two are similar, they have some differences. Knowing what makes a re-roof different from a roof replacement helps you decide which one you need.
What Is Re-Roofing?
Re-roofing is a type of roof restoration that involves layering new shingles over existing ones. The new shingles restore your roof's look and act as a barrier to prevent leaks. 
It's best to re-roof your entire roof, not just sections. Your roof must be in good condition with no substantial water damage or missing or soggy shingles to qualify for a re-roof. Additionally, you can only get a re-roof once because the third layer of shingles puts too much weight on your roof, which can compromise its structure. Homes that already have a second layer of shingles must get a roof replacement instead.
What Is a Roof Replacement?
During a roof replacement, contractors remove the existing roofing material and expose the deck. Once they expose the deck, they install a new underlayment or felt. The underlayment is a water-resistant barrier that provides an extra layer of protection during severe weather. Roofing contractors then cover the roofing deck with a new roofing material that lasts for many years.
Roof Replacement vs. Re-Roof
As with anything, there are various advantages and disadvantages to each option. Here are some of the pros and cons of re-roofing and roof replacements.</span >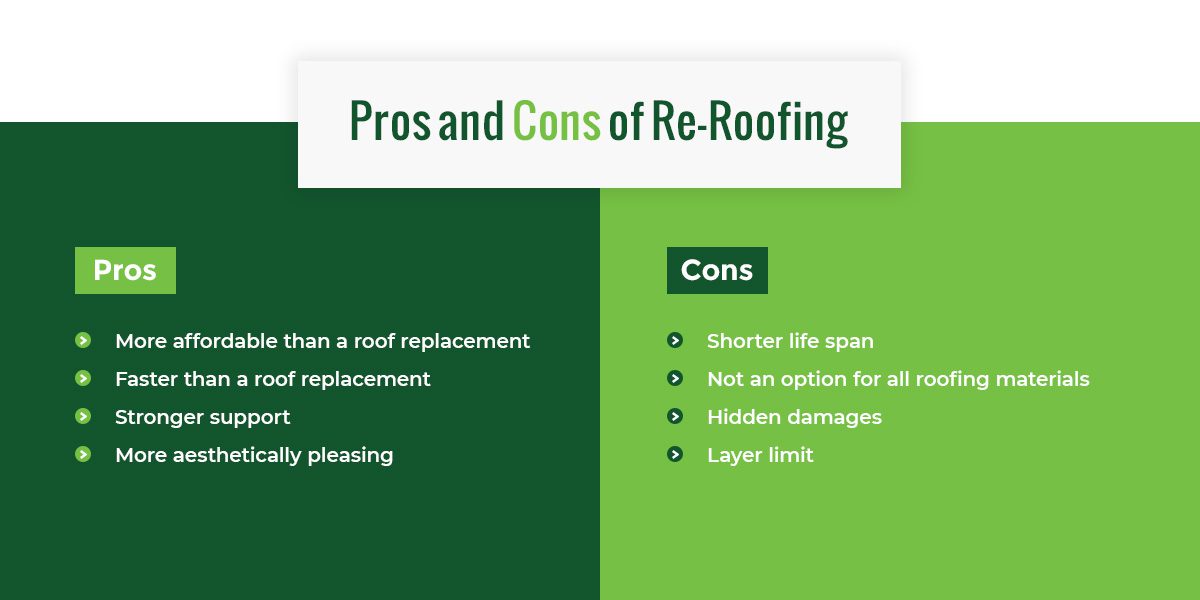 Pros and Cons of Re-Roofing
The pros of re-roofing include the following:
More affordable than a roof replacement: Re-roofing doesn't require as much labor, materials or time, so it's generally cheaper than a roof replacement.
Faster than a roof replacement: Since re-roofing doesn't involve replacing the entire roof, it's a faster job than a roof replacement.
Stronger support: The second layer strengthens your roof and makes it more difficult for water to leak into your home.
More aesthetically pleasing: Age takes its toll on everything, including your roof. Re-roofing gives your roof a makeover and restores its appearance so it looks new.
The cons of re-roofing include the following:
Shorter life span: Re-roofing has a shorter life span than a roof replacement.
Not an option for all roofing materials: You generally can't get a re-roof on a metal roof.
Hidden damages: There might be hidden damages underneath your roof, such as water damage, sagging or rotting. A re-roof only covers these damages — it won't fix or identify them.
Layer limit: If you have two layers of roofing material, you can't get a re-roof.
Pros and Cons of Roof Replacement
The pros of a roof replacement include the following:
Early water damage detection: Once professionals expose the deck, they can identify signs of excess water damage, like rot.
No layer limit: A roof replacement strips your existing roof completely and redoes it. Therefore, it doesn't matter how many layers of material you have.
Longer life span: You'll end up with a brand-new roof, which will last longer than re-roofing.
Safer: Re-roofing hides problems without detecting them, but a replacement addresses any issues, so you have a stable, secure roofing system.
Cost-effective: Roof replacements can save you money in the long run because they detect problems early on. It's usually cheaper to address minor issues before they become more significant.
The cons of a roof replacement include the following:
Cost: Since they require more labor, materials and time, roof replacements cost more than re-roofs.
Re-Roofing vs. Roof Replacement Cost
You can use the same factors to determine the cost of a re-roof and a roof replacement. These factors are: 
Labor: Re-roofing can save you money on labor costs. There's less work to do, equating to less labor and money. Each contracting company charges a different amount for labor, so it's best to ask the companies you're interested in how much they charge.
Materials: Asphalt shingles are one of the most affordable roofing materials. A new roof using asphalt shingles ranges from $7,500 to $15,500 or more. Additionally, they are easy to work with, making the labor cheaper.
Equipment: Special equipment, like safety harnesses or roof jacks, may require additional fees.
Home size and slope: The slope of your roof and your home's size affects the cost. A multistory home with a steep slope costs more because it requires more materials and work. Contractors typically charge per square foot. Additional features like chimneys may add more to the re-roof or replacement cost.
Damage: Contractors must repair a damaged roof, which increases the cost.
Accessibility: If the roof isn't accessible, contractors may charge you more. An example is if they can't get the truck close to the house and have to carry the equipment and materials a long distance.
Post-cleanup: Some roofers charge a fee for post-cleanup work. 
Re-Roof vs. Roof Replacement FAQ
Here are some of the most frequently asked questions when trying to decide between a re-roof and roof replacement:
How long does re-roofing last? A re-roofing lasts less than a roof replacement. That said, a few factors affect how long a re-roof lasts, such as roof damage and what material the second layer is. The different roofing materials have varying life spans, but a re-roof with asphalt shingles might last up to 20 years.
Is it cheaper to re-roof? It's generally more affordable to re-roof because it requires less labor, materials and time.
When should you re-roof? You should get a re-roof as a temporary solution to a roof replacement. It's like a bandage that can hold you over for a few more years until you need a roof replacement.
Is re-roofing a good idea? Re-roofing can save you money and reinforce your roof for a few years until you can afford a replacement. It's a good idea as long as your roof is in good condition and doesn't display any signs of damage.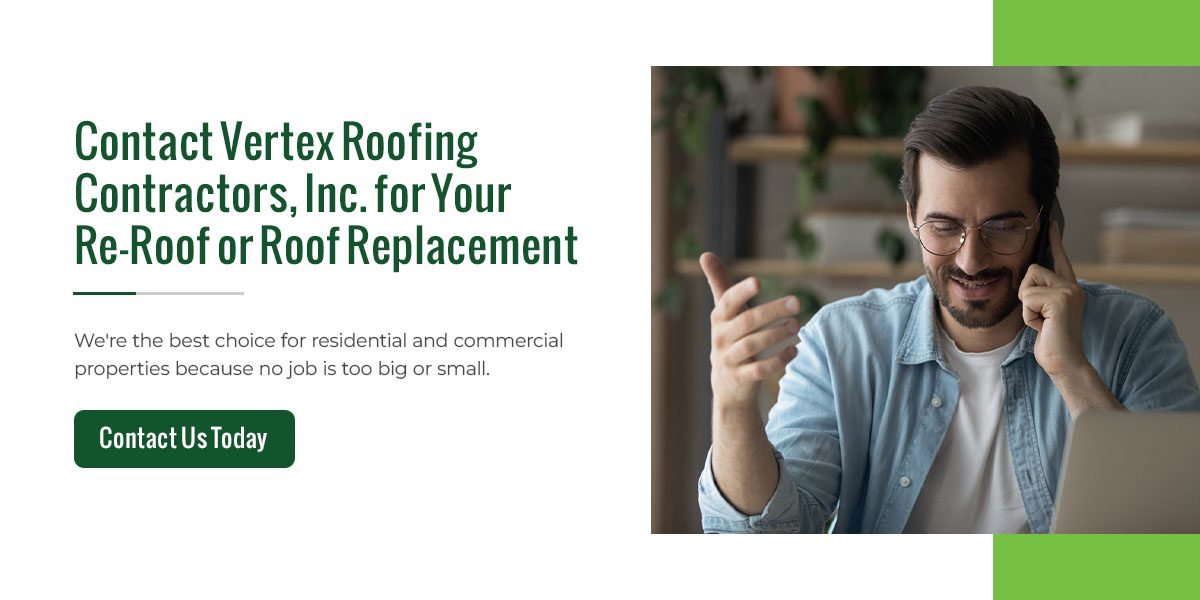 Contact Vertex Roofing Contractors, Inc. for Your Re-Roof or Roof Replacement
Vertex Roofing is a family-owned business in Northern Virginia. We're the best choice for residential and commercial properties because no job is too big or small. Our company values honest, trustworthy relationships with our clients, high-quality work and excellent craftsmanship.
Since we have the CertainTeed Select ShingleMaster™ title and the GAF Master Elite ® Certification, we offer warranties on our roofing materials. We can help you with your re-roof or roof replacement. Contact us today to receive a free estimate, or call us at (703) 436-6426.