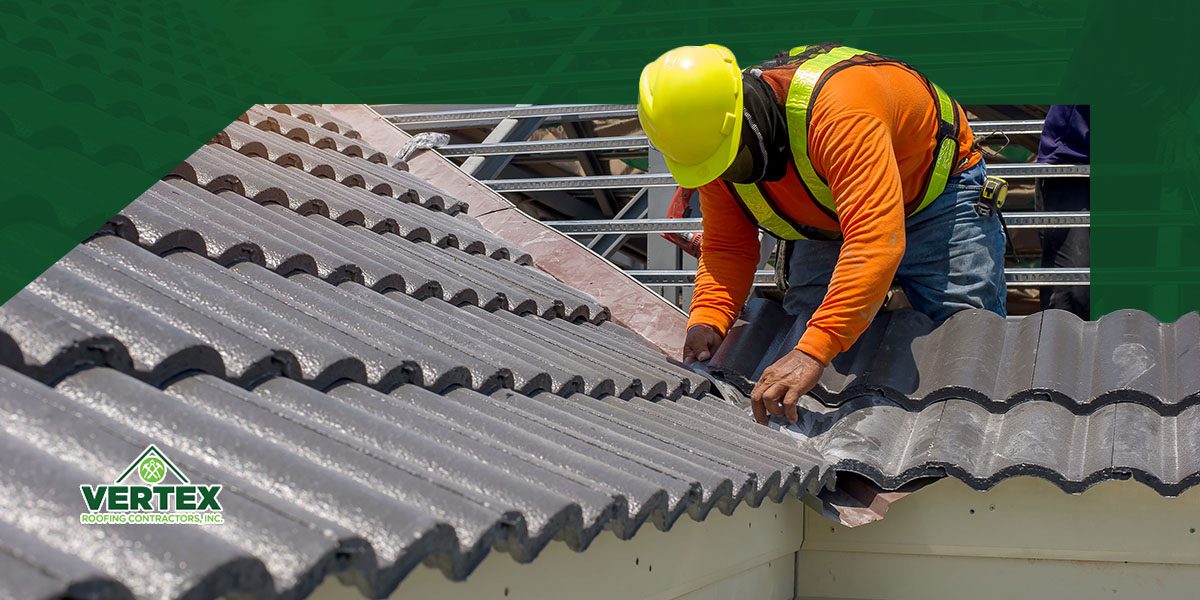 Roof replacement can be a complex job. As a homeowner, you want to know what to expect during a roof replacement to prepare your home and family. Understanding the factors affecting roof replacement timelines is one of the best preparation methods. With expert advice, you will have all the necessary answers to prepare for your roof replacement.
How Long Does Roof Replacement Take?
While roof replacements normally take one to three days, roof replacement timelines vary from home to home. Roofing contractors take numerous steps, like inspecting and removing your existing roof, before installing a new one. Here are some roof replacement steps to factor into your timeline:
Roof inspection: Your roofing contractors will inspect the conditions of your existing roof and look for any structural damage.
Roof removal: Roofing experts remove your old roof. They also remove worn or damaged roof components. Removal time can depend on your roof size and existing conditions.
Roof structure repairs: Roofing professionals fix or repair any structural roof components. Repairing the roof structure can reinforce the strength and durability of your new roof.
Roof Installation: Roofing contracts install your new roof. Roof installation time can vary depending on your roof size, depth and weather conditions.
Post-replacement clean up: Your contractors will check for nails and debris around your home and clean up as needed.
Post-replacement inspection: Your roofing company will walk you through their craftsmanship. You can inspect the roof and ask for additional work if there are any irregularities with your replacement.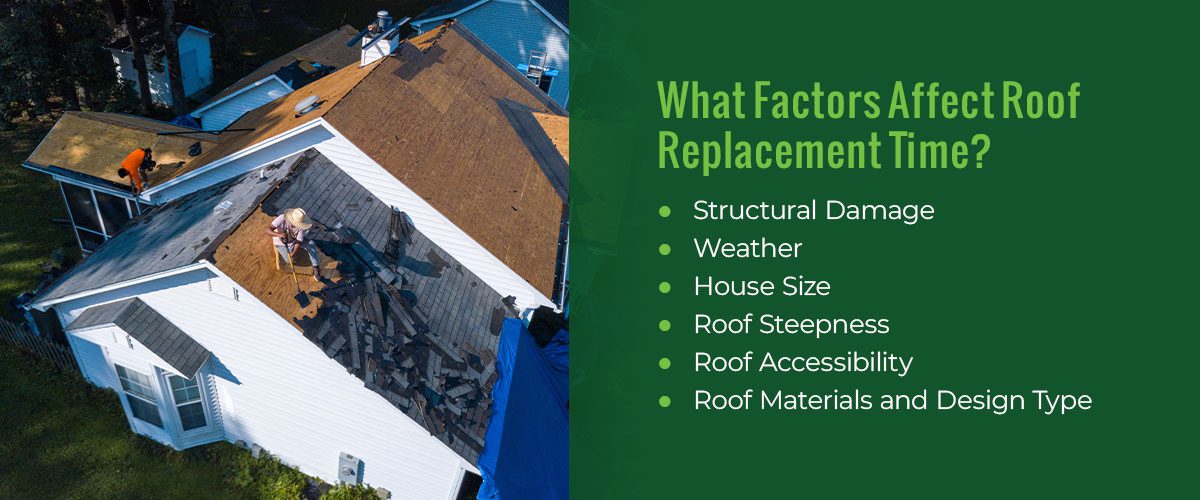 What Factors Affect Roof Replacement Time?
Various factors like the weather, your house size and roof structural condition can affect how long it takes to replace a roof:
Structural Damage
Structural damage to your roof deck and other components below the shingles, like worn gutters, can affect your replacement time. Professional roofing companies fix structural damages before installation to ensure the structure is rigid enough to support a new roof. Repairing structural cracks can also extend the life span of your new roof. Roof replacement can be quicker if structural damages are minor or your roof structure is in excellent condition.
Weather
Cold weather conditions can impact your roof replacement time. Icy or wet conditions can be hazardous for roofing specialists, causing contractors to wait until the weather clears up. Cold temperatures can also affect your replacement time, especially if you're replacing your roof with asphalt shingles. Asphalt shingles can require extra care if temperatures drop below 40 degrees Fahrenheit.
House Size
Your roof replacement time depends on the size of your home. Roof replacement on a large home can take longer than a smaller home.
Roof Steepness
Steep roofs can be challenging for roofers to walk across safely and can impact your installation time. Crews may require additional safety equipment to protect them from falling and to prevent materials from sliding off the roof. A roof with a shallow pitch can also affect the length of your replacement. Shallow roof pitches can require a specific underlayment to prevent water backup damage.
Roof Accessibility
Roofing replacement can take longer if it's challenging for contractors to access your roof. Landscaping and rows of shrubs can make it challenging for roofers to find stable areas to place their ladders and access your roof. A home closely built to your neighbors with a narrow walkway can also make it challenging for roofers to access your roof.
Roof Materials and Design Type
Shingle materials like asphalt, wood, concrete and slate can require various installation methods. Different complex tile or shingle design layouts can require longer installation times. The type of roof shingle or tile you choose can also affect your replacement time.
How to Prepare for a Roof Replacement
Preparing your home for a roof replacement is vital. Your yard and attic are some areas that you should prepare for a roof placement.
Roof Replacement Yard Prep
Here's how to prepare your yard for roof replacement:
Inform your neighbors: Talk to them beforehand about noise or any other disturbance so they know what to expect. Caution them about shingles or nails falling into their yard during the replacement. You also want to ask them if they can unlock their gate so that roofers can pick up any debris that may fall into their yard, if applicable.
Check your electrical outlet: Ensure your roofers can access an electrical outlet to power up their tools. You can leave a window open so they can connect to an indoor outlet if you don't have one outside.
Move toys, garden equipment and furniture: Clear toys, patio furniture and landscaping items like garden lights and mosaics to prevent roofers from tripping. Moving your outdoor items can also protect them from falling debris that can cause damage.
Mark and protect equipment and landscaping: Outdoor equipment like sprinklers, water features, ponds and greenery can be unnoticeable to roofers. You'll want to mark and cover outdoor items to make your roofers aware.
Cut your grass: Cutting your grass can make it easier for roofers to spot and collect any debris that gets lost in your garden.
Unlock your gate: If you have a gate, keep it unlocked on the day to ensure your roofers can access areas around your home.
Move your vehicles: Parking your vehicles on the street can help roofers quickly move in and out of your driveway. If you need to go somewhere while the roofers work, you may not want to park your car in the garage — you want to ensure you can leave your house without requiring your roofers to move all their equipment. Moving your vehicles from the garage can also help protect them from debris falling through the roof.
Inform your contractors about your roof accessories: Your roofing contractors can remove any roofing accessories like skylights and satellite or TV dishes. Informing roofers of all your roof items beforehand can help ensure they remove vital components.
Roof Replacement Home Interior Prep
Here's how to prepare your home interior for roof replacement:
Clear and protect your attic: Roofreplacement can create excess dust and vibration in your attic. Remove fragile items that can get damaged during the replacement. You also want to dust-proof your attic with tarps and sheets.
Protect your decor and fragile items: Vibrations from hammering and drilling can knock decor off the wall and harm fragile items like fancy dinner sets and vases. Remove decor and fragile items from wall areas to protect them from damage.
Cover your garage items: Garages often have less insulation than other areas, making it easier for debris to slip through the roof. If you have a built-in garage, cover any valuable items with sheets to protect them from potential damage.
Protect your windows: Nails, shingles and other debris can fall on your windows, causing scratches and cracks. You can board up your windows with wood to protect them from damage.
Roof Replacement FAQ
Here are some common roof replacement questions:
Can a roof be replaced in one day? While roof replacement times can vary from home to home, replacing a roof in one day is possible. It's essential to consider all the factors like house size and weather conditions that can affect your roof replacement time.
Can you replace a roof while living in the house? You can stay in your home during a roof replacement. However, you want to consider factors like noise, safety and movement when deciding to stay or leave your home for the duration of the installation.
How loud is roof replacement? Roof replacement can be noisy and disruptive. The drilling and hammering can be disruptive, especially if you have young children or pets or work from home.
Should you stay home during your roof replacement? While you can stay home during roof replacements, many professional roofing companies advise against it. Staying home during a roof replacement can be challenging for you and your roofers. Aside from the noise levels, debris like nails and shingles can slip through the roof, creating a safety hazard. Getting your vehicle out of your garage can also be challenging, with roofing equipment taking up your driveway. Roofers will have to work more cautiously to ensure that they do not throw any debris off the roof while you are walking out of your home, which can affect their efficiency.
Do roofers need to come inside? Most roofing work is done outdoors, and roofers do not have to be inside your home for the replacement.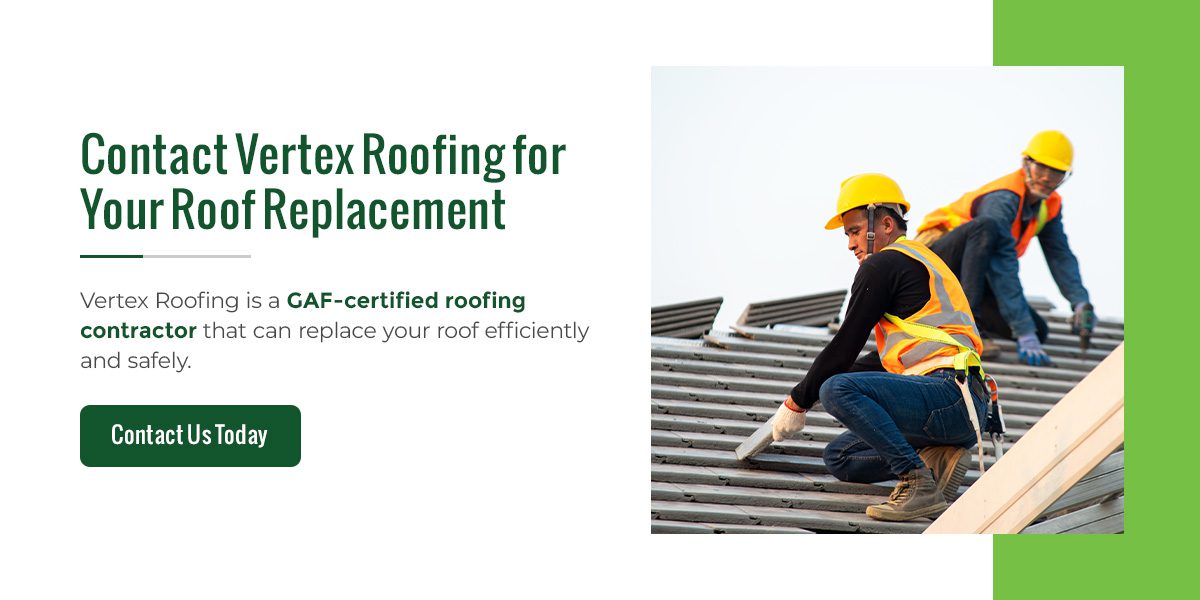 Contact Vertex Roofing for Your Roof Replacement
Roof replacement can be an intricate job, requiring professional roofing expertise. Vertex Roofing is a GAF-certified roofing contractor that can replace your roof efficiently and safely. With over a decade of experience in roof repair and replacement, we can help you prepare for your roof replacement and ensure the job is done safely. We have also received CertainTeed ShingleMaster™ certification and offer quality and safe craftsmanship to homeowners in Northern Virginia.
Contact us at (703) 436-6426 or submit a contact form for a free quote.